Has anyone used the Rapid Diver in drysuit applications ?

hfpdbludvr




Posts

: 1


Join date

: 2009-06-05



The answer is yes. I use my Dry Suit more than a wet suit. I have used DUI TLS 350 and OS Systems dry suits. Any drysuit will work with the Rapid Diver.
The quick donning aspects of the Rapid coupled with the quick donning aspects of front entry drysuits make the Rapid/Drysuit a perfect match. I love throwing on the drysuit over my work clothes (minus boots of course) and then donning the Rapid for a dive. The steel tank has excellent buoyancy and trim characteristics. The super combo is to use the OTS Full Face Mask in conjuction with the Rapid...you are almost completely dry underwater.
Another HUGE advantage to the drysuit/Rapid combo is something that Orange County Sheriffs Dept mentioned when I asked them if the Rapid had enough lift (at 30lbs lift), they said "we don't need more lift...we are wearing drysuits!
Post your pictures and stories...if you have any direct questions you can always PM me.
Thanks,
Chris
Below is a good picture of the Rapid Diver with the TLS 350 inflator button visible.
OS Systems Dry suit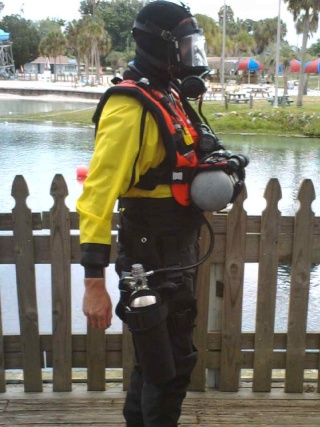 Mike in his Typhoon dry suit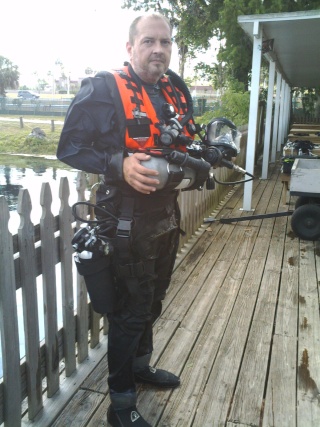 Both are DUI Drysuits
RAPID SAR
FRONT ENTRY
DIVING DRYSUIT
PM me for pricing information
This is the Search and Rescue/Recovery dry suit with valves (DSRT(FE) that is now available for all Search and Rescue Professinals. I have been searching for a low cost, lightweight dry suit that can be easily stowed and used with the Rapid Diver system. I am working closely with OS Systems on this special dry suit.
Materials: Tough, Military Spec high tenacity 210 denier High Count nylon in Sea Rescue Orange for high visibility. High Count nylon contains more threads woven into each square inch of fabric. The resulting fabric has a very tightly packed weave for extraordinary abrasion and puncture resistance. All seams are made with quadruple interlocking stitching for strength and then fusion sealed inside for water tightness.
Waterproof Coating:
The Rapid SAR is made from the same high tenacity 210 denier High Count Nylon shell fabric as other OS SYSTEMS heavy duty drysuits, the HDPro. However, the polyurethane coatings on the RAPID SAR fabrics are lighter. This 210 HCLT (High Count Lightweight) fabric is extremely strong and durable, yet extraordinarily soft, comfortable and light weight.
The RAPID SAR drysuit includes SI TECH valves (Pro Swivel Inlet/Low Profile Automatic Exhaust), a 32" Low Pressure Hose, and a Zipease lubricating stick. The RAPID SAR drysuit features include a self donning front entry #8 brass tooth diving zipper, underarm and crotch gussets, Mauser stitching with double taping, a bungie cord waist, Cordura Dome Knee Pads, with full size fabric (not latex) socks.
Valves: SiTech inlet/automatic exhaust with gaskets installed are standard. Three year warranty.
Seals: Made in USA, Longlife Latex™ rubber neck and wrist seals are thicker and more durable (minimum thickness .026") yet thin and flexible enough to insure a comfortable fit.
Testing: Each suit is individually pressure tested underwater
Safety: Red and orange reflector tape down arms and around wrists
Last edited by Rapid Diver on Tue Mar 01, 2011 7:06 am; edited 2 times in total
LA Sheriff SEB Divers testing a Rapid Diver System near Palos Verdes. DUI TLS350 drysuit, DUI 200 base layer, needed 30lbs on the weight belt.
https://i.servimg.com/u/f60/14/90/73/54/p1032910.jpg
Last edited by Admin on Mon Feb 22, 2010 7:18 pm; edited 2 times in total (Reason for editing : Added photo link)

smdoucet




Posts

: 1


Join date

: 2010-02-22




Patriot3




Posts

: 5


Join date

: 2010-12-09



---
Permissions in this forum:
You
cannot
reply to topics in this forum