Hi all,

Hope I can get some help and advise on is fab system, have been diving for 25 years and always used a ABLJ old horse shoe style. This is the first thing I've seen that may better the old ABLJ.
I dry suit dive all the time, quick question do those find inflation access difficult, I have seen the drysuit thread but just asking is it tight in between the neck and top ie hard to push inflate.
What type of weight system are people using, I prefer independent as I can ditch in emergency on surface.

Is the back pack tank holder quick to attach and disconnect. Inflation on the jacket I assume is as per all other types of jackets.

Can a second stage type inflator/reg be used on the systems ie like the scuba pro 2 air

Finally do most divers use the cylinder at 300. Bar

Many thanks for all your time and advice in advance.

Bruce UK



Satdiver




Posts

: 3


Join date

: 2011-02-02



Bruce,
Thank you for posting on the site. I hope this post answers your questions.
I dry suit dive all the time, quick question do those find inflation access difficult, I have seen the drysuit thread but just asking is it tight in between the neck and top ie hard to push inflate.
Good question, it would depend on the placement of the inflator. I have a drysuit in production that has the inflator right under the neck seal so that the Rapid Diver opening doesn't conflict with the inflate button. I have other divers who have the inflate on the thigh...a great idea.
We have found that diving a Dry Suit with the rapid is a perfect fit, primarily because dry suits tend be bulky and the Rapid is very compact/streamlined.
What type of weight system are people using, I prefer independent as I can ditch in emergency on surface.
Same here, I was never a fan of weight integrated BC's. A standard weight belt works fine. Like the Rapid Diver development, we spent some time and $ to get a new type of weight system built. What we came up with is the Tactical Gear Belt.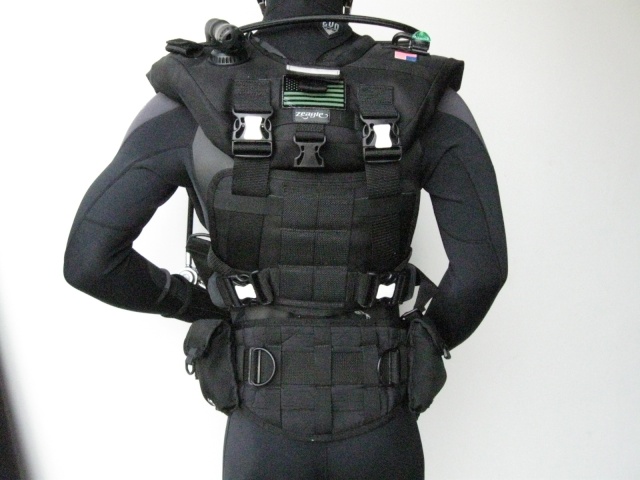 Is the back pack tank holder quick to attach and disconnect. Inflation on the jacket I assume is as per all other types of jackets.
The Backpad is very quick to detach, there are four 2" quick connects that are easily accessible (picture above).
Can a second stage type inflator/reg be used on the systems ie like the scuba pro 2 air
Yes...that is my suggestion: The Scubapro Air2
Finally do most divers use the cylinder at 300. Bar
Either...200 Bar is more common right now.
Many thanks for all your time and advice in advance.
Bruce UK

Patriot3




Posts

: 5


Join date

: 2010-12-09



Excellent many thanks for your answers, just spent weekend in US but the dive shops I visited did not have stock as yet, so I was unable to get a good look and feel for the system, I am very interested in this, do you know of any second hand ones that come up without bottles and regs, as I need to ship to uk and this will cause airfreight issues. thanks
Bruce

Satdiver




Posts

: 3


Join date

: 2011-02-02



---
Permissions in this forum:
You
cannot
reply to topics in this forum