Would you be interested in a Rapid Diver Rescue specific training program?
How are you using your Rapid Divers for rescue?
I volunteer for P.O.R.T. Pacific Offshore Rescue Team. Most of us use the Rapid Diver for deployment from boats and helicopters. I use the Aluminum 20 cubic foot version, since I readily sink and have very good air consumption. While the Razor valve first stage combo is very compact I found I wanted the versatility of a standard valve to facilitate switch tanks out rapidly.

Bill Maley




Posts

: 5


Join date

: 2009-08-03



Rapid Divers were used in the successful rescue at the Perth Red Bull Air Race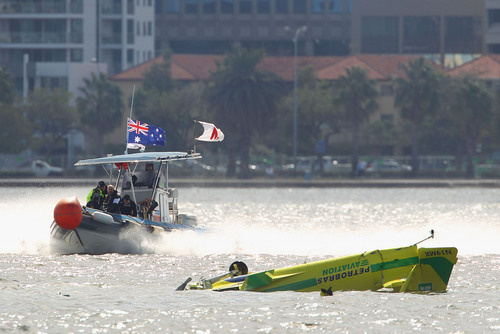 First Red Bull Air Racer Crash
from:
http://jalopnik.com/5518815/first-red-bull-air-racer-crash
The Red Bull Air Race just suffered the first crash in its seven year history. Brazilian pilot Adilson Kindlemann survives plummeting tail first into Perth's Swan River after his engine stalled in the middle of a chicane.
The Red Bull Air Race is an international series of races that typically take place over water near major cities. Specially built race planes navigate tight turns around pylons and other obstacles specifically erected for the event. The Air Race will come to New York for the first time this June, flying over the Hudson River between Manhattan and Jersey City.
Kindlemann was knocked unconscious during the accident and would have drowned if it wasn't for the Air Race's crack emergency response team, which had divers in the water with the crashed plane in under a minute. Kindlemann only suffered whiplash injuries in the crash
If you are interested in doing some dives with your Rapid, or would like to try a Rapid Diver we will be hosting a dive each month at the Phil Foster Park (under the Blue Heron Bridge).
The water is crystal clear and warm, and we dive at slack tide. PM me if you are interested in joining us!
Here is a picture:
Below is a RDE SOP that was put together by Wyatt (Cocoa Beach FD)

Rapid Diver Entry System Operational Procedures


Application:


"Rapid Diver Entry System (RDES) was developed for a rapid extrication of a victim by allowing dive rescue teams to get in the water faster. It was designed for those situations when a quick underwater rescue can be performed. RES allows the first officer on scene to assess the situation, place the call for Fire Department Special Operations and initiate the location while Fire Rescue is in route. It saves valuable time and increases the chances of finding submerged victim(s) while they are still alive."

Rapid Entry System, however, is not intended for search and recovery operations unless combined with line search.


Minimum Requirements:


Dive Rescue Team candidates must successfully complete the following:

1. NASE Certified Open Water Scuba Diver
2. Rescue Diver training
3. Confined and open water training
4. Pass a performance test, which includes:

a) 1000 yard swim (crawl stroke only) with mask, fins and snorkel
b) 25 yard underwater swim with one single breath
c) 500 yard paddle wearing the RES equipment
d) 250 yard surface swim wearing the RES equipment
e) RES equipment donning time of 60 seconds or less.

In addition, each team member is required to swim in a pool using the RDES equipment to establish average air consumption rate in order to qualify for the Ocean Rescue Dive Rescue Team.

The team will be required to train at least once a month and to keep a log book to document all training. All Dive Team data will be kept on file at Ocean Rescue Headquarters, administered by the Dive Rescue Training Officer(s).




Training and skills development is conducted by a certified Specialty Instructor (can be staff member or from qualified outside source). The Dive Rescue Training Officer(s) will have the responsibility of maintaining instructor ratings in accordance with NASE or other professional organizations.


Note: Dive team candidates will be also carefully evaluated based on each individual's attitude, certification, and ability.


Safety Precautions:


Every dive requires the RDES Dive Team Member to take the following safety measures prior to RDES equipment use:

1. Perform a quick pre-dive equipment check before entering the water, including the following:
a) Minimum tank pressure 2000 PSI
b) Regulator is operating normally
c) Buoyancy compensator inflation/deflation ok
d) Proper weighting
e) Releases.

2. Depth gauge (Speed Tech depth meter)
3. Two cutting tools (a dive knife and a pair of shears)
4. A watch to monitor bottom time limit
5. A Back-up Officer at the surface at all times to assist Rescue Divers
6. Maximum dive depth of 25 feet, determined by "Speed Tech" depth-meter.
7. Maximum bottom time of 10 minutes;
8. Tank pressure 2000 PSI, minimum pressure of 500 PSI at the surface 9. Back up Oxygen tanks (one per each Rapid Diver Entry System in use).

Note: Equipment must be standardized to allow familiarization between all divers.


Emergency Procedures:


Ocean Rescue Dive Rescue Team will be operating in the Rescue Mode (the first hour after notification of a missing victim).The Incident Commander is the Officer In Charge (OIC).Upon notification of an emergency, the Incident Commander (OIC) will assign line search team(s) if a search needs to be conducted. The OIC or Designate will bring RDES Dive Rescue Team Members to the scene to operate in conjunction with line search. The OIC will select the Primary Diver at that time. RDES Dive Team Members will assist on scene evaluation including:


1. Witness interviews, more than one if possible
2. Placement of red flags or other reference points such as a throw bag with marker buoy to determine "last seen location"
3. Entry points.


Note: The OIC may use divers (Dive Rescue Team) as "technical advisors" to aid in decisions concerning the dive rescue operation. However, the OIC makes the final decision to allow or refuse dive rescue operations to enter the water based on Risk/Benefit Factor and his/her assessment of the scene. The Ocean Rescue Dive Rescue Team will only operate in the Rescue Mode. The potential benefit must be considered high to enter the water. All recovery operations will be turned over to Fire Rescue or Police Dive Teams.


The OIC may utilize a PWC Operator and crew member(s) to launch the Personnel Water Craft (PWC)-conditions, staffing and/or availability permitting. The PWC Operator will be communicating with OIC using a marine radio. When the Primary Diver is ready for the first dive, a back-up Ocean Rescue Officer will be on the surface. If not on the PWC, an officer will be on a paddleboard to provide assistance. The back-up should be, if available, the Safety Diver (a certified RDES Dive Rescue Team member). In the absence of a second diver, back-up person must have mask, fins and snorkel. Besides providing assistance, he/she will also gather information, monitor, communicate with the Primary Diver, and with an officer on the PWC and/or shoreline using hand signals. The Primary Diver will stop at predetermined tank pressure. The Safety Diver must be prepared to take over as soon as the first diver surfaces.

In case of multiple victims, both Primary and Safety divers should perform dives at the same time, as long as they have additional back-up at the surface as per Operating Emergency Procedures. Divers will use predetermined hand signals underwater to communicate.

Upon retrieval of submerged victim(s), diver(s) will make the transport to the surface. The fastest resource available should be used to transport patient(s) to the shore. Assessment of the patient(s) should start even before contact is made. Once on shore, basic life support must be provided until paramedics are on scene.

Note: At any point, the OIC can make plans to bring Unified Command (Fire Department) on scene. The OIC will remain the Incident Commander in the Rescue Mode. Once in the Recovery Mode (after the first hour of the Rescue Mode has expired), operations will continue under the Unified Command structure. Unified Command may determine status of rescue/recovery mode when "on scene" command is established.


Dive Rescue Team Responsibilities:


1. To follow safety procedures
2. To provide care and maintenance of the equipment by:
- Weekly inspection of all Rapid Diver Response Dive Apparatus, to be conducted and documented by a member of the Rapid Diver Response Dive Team.
- Reporting any parts that need to be replaced, repaired, or restored
- Making sure cylinders are stored with oxygen at 3000 PSI
- After each use, equipment must be rinsed thoroughly with fresh water and properly secured.
3. Report(s) of all dive incidents are to be documented on the Diver Accident Report, which is completed and submitted at the end of each incident
4. All RES Dive Team members must document all dives in the Diving Activity Resume log(s), to be kept on file at Ocean Rescue Headquarters.

Note: As with any scuba equipment, RES and cylinders must be inspected and tested annually by an equipment specialist to ensure optimum performance.



Definitions:

SCUBA - Self-Contained Underwater Breathing Apparatus

PSI - Pressure per Square Inch

RDES - Rapid Diver Entry System (Scuba unit designed for rapid underwater entries)

Bottom Time - Total dive time

Officer In Charge (OIC) - Senior supervisor on-duty

Primary Diver – Initial diver in the water

Safety Diver – Back-up diver to primary diver, observes initial diver, can become primary diver if multiple victims or second dive needed

Back-up Officer – On scene Ocean Rescue Officer, equipped with mask, snorkel, and fins

Regulator - Regulates air coming from a scuba tank

Rescue Mode - When there is a possibility to save a human life

Recovery Mode - When there is no goal of saving a life

Risk/Benefit Factor - Is a subjective evaluation of the merits of an operation

Well done. Thank you for sharing.

Bill Maley




Posts

: 5


Join date

: 2009-08-03




---
Permissions in this forum:
You
cannot
reply to topics in this forum