Post your most interesting Rapid Diver stories here:
One of my most Rapid Diver experiences was at the Weeki Wachee Abyss which is on the Weeki Wachee River. I went there with Ed in the Spring of 08. This is a truly unique dive. The river does a great job hiding the incredible feature beneath. It is one of those spots that you have to have local info to find it.
We motored up to the spot. Weather perfect and water crystal clear. As we donned our equipment we noticed a something in the water. Over the side we went. Here are some pictures of this location courtesy of Doug Ebersole:
This is what it looks like from the surface.
And from underneath!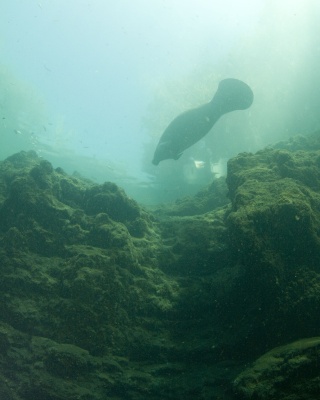 The "solution tubes" at 40'
The themocline at 80'
The name "Abyss" defines this location. When you are at the surface the bottom drops out below you and bells out. The bottom is at 140' and yes, Walt wore his Rapid down to that depth (for a few minutes) and he currenlty holds the world record for deepst Rapid Diver dive. My recommendation is to stay above the 80' level, my favorite area is the 40' and above section which has tons to see. The Abyss is host for thousands of Silver Snapper and Manatees are often found there. One of the last really cool dives!
Chris
I used to be a lifeguard at the park when I met Chris and he asked me to join him in a scuba tour program at the spring. That started as just basic diving with guests on park and later turned into some of the best dives ever. We began to work with film crews such as MTV, FOX, BBC, and others on their shoots where I served as a safety diver. My first shoot was with a French Canadian reality show where a girl wanted to be a mermaid and we hooked her up. All in all it was a great experience and I cannot thank Chris enough for those dives. That led me to my 4 year career as a volunteer rescue diver in which I made Lieutenant in 2 years. If you ever get a chance to dive Weeki, check it out because its the most beautiful dive ever.

SVFD5155




Posts

: 2


Join date

: 2009-06-30


Age

: 37


Location

: Knoxville, TN



Keep posted for dive trips planned for Rapid diver users!
This place is awesome with the Rapid!


---
Permissions in this forum:
You
cannot
reply to topics in this forum