SCAN/MARK/DIVE Yes, we scan!
Side Imaging has come a long way in the past few years. Sonar equipment that used to cost 10's of thousands of dollars are now not only inexpensive, but extremely capable.
Side Imaging technology will enable you to clearly see what is beneath the surface in "jaw dropping" clarity. I personally like the advantages of seeing potential entanglement issues during the pre-dive and also getting a great perspective on the underwater topography.
I recommend every dive team to employ a Side Imaging system and this new TOPIC is dedicated to sharing information about Side Imaging technology.
Please note that we have a SCAN/MARK/DIVE training program. Here is some information:
SCAN/MARK/DIVE Training is now available to enhance all PSD training programs in Florida. Learn the latest Side Imaging techniques, GPS direct target marking and Rapid Diver response target inspection. The training is designed to be done in conjunction with the existing department dive training evolutions and only requires a few hours. The training can either be a "dry" day, pool day (with smaller inflatable--no motor) or we can go to your local training lake for "real-time" training.
We will supply all equipment,Inflatable boats (Zodiac), Side Imaging technology (Humminbird 1197c) and the Rapid Diver systems with the excepting for personal dive gear. There is no charge for this training, call or email to reserve your SCAN/MARK/DIVE training dates. We will keep you informed of other inter-agency training locations if you are interested in joining teaming up with another Department.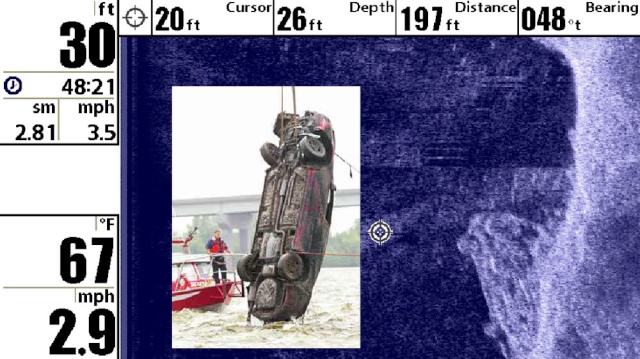 The story behind this image is that a lady ran off in the Mississippi River around Alton Illinois in 2002. For three years the search for the car/ her body was conducted using other sonar equipment and dive teams; however, they had no luck in being able to locate/image the car. In 2005 a man was fishing in the area with the 987c SI unit and recorded this image. Immediately he knew that this was a car and knew the story of the missing lady. He notified authorities and they were able to recover the car along with the body of this lady.
The image above was taken on the Tennessee River. This image clearly shows a Cessna airplane that crashed into the Tennessee River in 2003. For two years search teams had looked for the Cessna without success. Also in the image you can see large schools of baitfish. The Cessna was recovered after it was found by the side imaging unit. A photo of the recovered Cessna is shown below.
SHERIFF'S DEPT. ADDS SONAR UNIT TO PATROL BOAT
By Ray King/OF THE COMMERCIAL STAFF
The Jefferson County Sheriff's Department has a new tool to assist them in locating drowning victims and stolen property that might have been dumped in the river.
Operations Commander Major Greg Bolin said a side imaging sonar unit has been installed on one of the department's patrol boats, and early experiments indicate it's going to be a benefit to the department.
"We've tried other things like underwater cameras and while we've still got them, with this sonar unit, we don't have to rely on sight alone," Bolin said. "We're pretty confident that we're going to be able to recognize a body, or even a stolen car on the bottom of the river."
The idea that resulted in the purchase of the new sonar unit came after deputies were sent to the Warren area in May to help locate the victim of a drowning trapped in a vehicle after heavy rains.
The victim, LaTasha Strong, 32, of Warren, was discovered May 11. She was a passenger in a vehicle found submerged in flooded waters following a 34-hour search near the Flat Branch Creek bridge in Bradley County.
"The family asked us to come help so we sent one boat, and then a couple of weeks later, they sent a letter to The Commercial thanking us for getting involved," Bolin said. "We got to talking about what we could do to make the job easier and some of our guys who are avid fishermen brought up the idea of a sonar unit, which a lot of fishermen use now."
Search and rescue
After discussing the idea further, the department found a sonar unit made by Hummingbird which is especially made for search and rescue operations, and bought it with grant funds.
"It's got a transducer that's been mounted on the bottom of the boat that will allow us to see an outline of anything within 150 feet on either side of the boat, plus GPS charting and mapping features so if we do spot something, we can go right back to that spot," he said.
June drowning
Discussing the drowning in Lake Saracen in June, Bolin said that while the department was able to get to the scene with a boat and recover the body in about an hour, he believes that if the new sonar unit had been available then, deputies would have made the recovery sooner.
The victim, Bobby Harris Sr., 39, of Pine Bluff, drowned in Lake Saracen June 17.
"This is going to cut down on not only the time involved and tell us where he need to focus, but also help ease the anxiety of family members, friends, and even the officers who have to be at the scene," he said.
Full story here:
http://www.pbcommercial.com/articles/2009/07/04/news/news1.prt
Last edited by Admin on Tue Dec 22, 2009 11:42 am; edited 6 times in total
It is easy to use a Side Imaging system. Just turn on the unit and start scanning. I like to travel at about 2 knots and run a hi-res scan and record 100' on either side of the vessel. Although initially developed to catch the big ones, Side Imaging has found a new home in the Search and Rescue industry.
Sub Sea Tactical (Store site) is now the official distributor of the Humminbird Search and Rescue 1197c Side Imaging system and can offer factory direct wholesale pricing.
More information here:
Side Imaging Link
Last edited by Admin on Sat Dec 12, 2009 12:37 pm; edited 3 times in total (Reason for editing : update)
Last edited by Admin on Sat Dec 12, 2009 12:38 pm; edited 1 time in total
Here are some tips on how to set up your Humminbird 1197c SAR Side Imaging system:


Add SCAN/MARK/DIVE training to your training monthly training evolution. PM or Email
Chris@RapidDiver.com
to set up a date for training.
Yes, we SCAN!
Pictures from SCAN/MARK/DIVE:
Menomonie Water Rescue Efforts Go High-Tech
Wisconsin - A high-tech fish locator has become part of the Menomonie Fire Department's arsenal of equipment to rescue people in water or retrieve drowning victims. The Humminbird Side Imaging Sonar unit, which has been mounted on the department's rescue boat, is capable of scanning a 720-foot-wide swath of water at any depth with a single pass of the boat. It has a nearly 11-inch screen showing in great detail anything sonar waves come into contact with.
"This will allow us to investigate a much larger area in a shorter amount of time," said Battalion Chief Denny Klass. "The unit gives much more detailed information of what's under the boat than a typical fish locator. It's like sucking all the water out of the lake and taking aerial digital photos of what's left."
View the full story here at:
www.firefightingnews.com
Here is a lightweight (48 lbs) inflatable that holds two divers plus gear (Rapids), motor and side imager. PM or email
Chris@RapidDiver.com
for more info.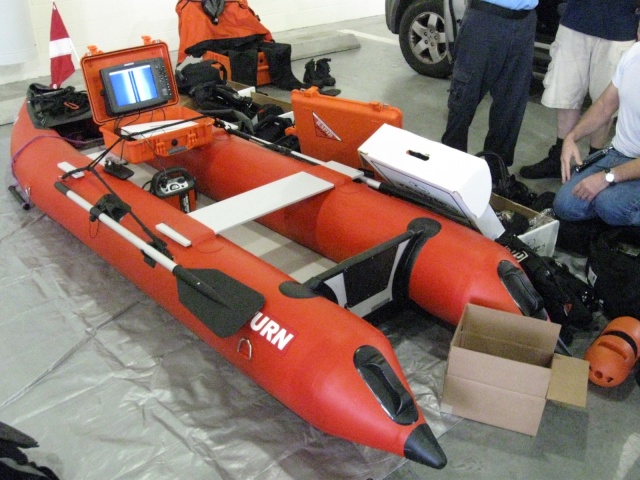 ---
Permissions in this forum:
You
cannot
reply to topics in this forum